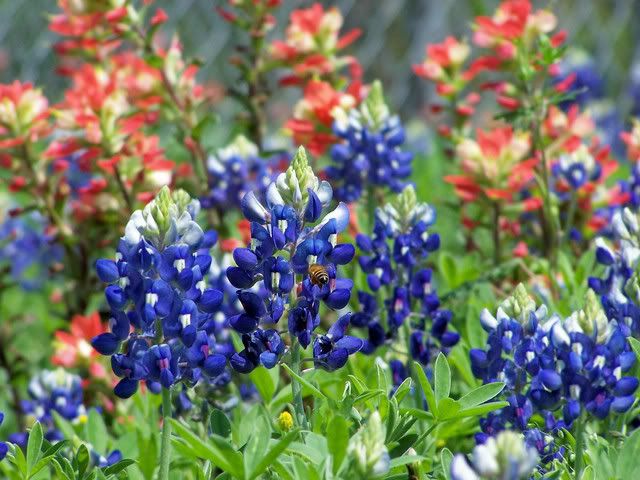 Something thrilling will happen soon and it has to do with nature intoxicating us once again with her charms. Right now old man winter has his white woolly blanket thrown over landscape's bed but hang on tight and a fresh morning will soon arrive.

Covers will be flung back, the bed sun-warmed. And then, popping through a steamy mattress of soil will be vibrant pink and yellow ruffled tulips and perfumed roses and multi-colored fields shrieking with evening primrose and baby blue-eyes. Our gardens will yawn first, and then shout with bullet shaped blue bonnets and crimson clover, like bright red tubes of lipstick. The days will lengthen; night caught short, the pungent smell of roots, new leaves and lavender exploding in air.

Prepare to feast your eyes on purple fhlox and red frilly poppies and lavender colored larkspur tightly packed around stems. And those mischievous robins will be back, too, excavating backyard worms in the midst of Indian paintbrush and rain lilies which open slowly at dusk to appear in full flower the next morning. Oh, and butter yellow corn flowers, we can't forget those loud ones, butterflies swooping around them like in air ballerinas'.

We will emerge,too, from dark winter houses, blinking and rubbing our eyes in sheer wonder at the rich, staggering beauty, scent and color surrounding us.

Here in Texas we also have many trees which riot with color and scent. Mountain Laurel, whose grape fragrance could rejuvenate a zombie and creamy tulip magnolia's, which remind me of generous scoops of vanilla ice cream. Lest we forget ornamental pear, exotic in lace, their lusty scent driving bees and butterflies wild.

Yes, spring will arrive. Sooner in south Texas, but even in colder climates it will come. Release your grip on the white quilt and keep an eye out. You can't miss the lacy bows and hot pink tights.


Here's a wee little poem of mine to share.

Flower Pageant

There is a garden I know
Where opulent flowers grow
And birds rally there, lizards, too,
Perch on hems of daisy's, that's what they do.

They laud flowers modeling exquisite dresses,
Roses in hot pink, passion flowers red tresses,
But when it's time to choose a winner,
Birds fly home for dinner.

The lizards with bubblegum pouches,
Linger on verbena couches,
Puzzled at what to do,
Knowing they must say who.

Flower girls hold heads tall,
Daisy, Rose and Poppy, all dolls,
In closing throw a celebration ball,
For a flower pageant has no stiff laws.